Start Earning Cash Today with Online Surveys*
Testimonials
Help & FAQ's
About Us
Paypal
Amazon
homesense
Banana Republic
Chapter Indigo
Cineplex
Start Here
Sign up for Free

Complete Surveys Online

Get Rewarded!
Earn up to $10 per survey, gift vouchers & free products

Work whenever you want, wherever you want

100% Free to register and take part
Start Earning Today -
Sign up in 60 seconds!
We promise that your data will be protected - it says so in our Privacy Policy
Earn up to $10 per survey, gift vouchers & free products
Work whenever you want, wherever you want
100% Free to register and take part
How it works
Sign up for Free
Choose from as many of our survey partners as you like – all safe, all free.
»
Complete Surveys Online
Check your email often - you'll probably have some surveys waiting.
»
Get Rewarded!
Earn cash, gift vouchers and more for every completed survey - and spend it!
HELLO THERE
Welcome to SurveyCompare. You should be able to find everything here that you need to know about paid surveys, how they work, and how much they pay. But if we've missed anything, feel free to ask.
SurveyCompare is a free survey hub. Through us, you can join a host of the best survey companies, who we've found to be the safest and fairest in the way they go about things. Generally speaking you earn up to $10 per survey. The surveys are for market research purposes – this is how brands develop their products.
Market research provides a convenient way to earn some money whenever and wherever you have a spare moment. Thousands upon thousands of people accumulate extra money this way and today you can join them.
Finally, THIS IS FREE AND SAFE. We want to be really clear about this. We don't ask you to sign anything, so there are no obligations whatsoever. You are free to use our service for as long or as short a time as you like, and it will never cost you a single penny, ever.
We hope you enjoy SurveyCompare!
Paypal
Amazon
homesense
Banana Republic
Chapter Indigo
Cineplex
Examples of Rewards
Cash - for online surveys from your computer
Gift Vouchers - from Amazon, Macys and many more
Extra Cash - for online focus group work
Free Products - to test and keep
No Spam Promise
We treat your data with confidentiality
We follow the rules of the Data Protection Act
We only send you relevant notifications
You can opt out of this free service at any time
Testimonials
"SurveyCompare is a great way to earn money and allows you to take control of your time. No bossing around, no pressure, no deadlines - so convenient."
Roxan, Windsor
"My experience with SurveyCompare has been such a positive experience and still is! With all the recommendations I receive, it`s easy to find websites that will pay me for my opinion! Since signing up, there is not one day where I don`t receive an opportunity to take a survey that will pay. I encourage anyone to try SurveyCompare out!"
Eloisa Mariano, Toronto
"This survey company is so informative about their surveys: I love doing the surveys. Thank you!"
Abby Hopley, Surrey, BC
"Surveys are great fun and informative; I am rewarded with benefits and they are not too time consuming!"
Joann Vienneau, Montreal, QC
Help & FAQ
Major companies want to understand what their consumers think about their products and services. To do this they hire survey companies to ask people like you for your thoughts and opinions, in the form of online surveys.
To thank you for providing your valuable opinions, companies are willing to reward you with cash, gift vouchers and other rewards. You won't get rich from doing online surveys, but if you like to earn extra cash for giving your opinions, you've come to the right place!
SurveyCompare continuously searches the fairest, most trusted and most rewarding paid survey companies, and lets you easily join them all in one go. There is no catch, and best of all, it's free!
Joining is quick and easy! Simply click "Sign Up & Start Earning" above, then select the available survey companies from the list. Fill in the form on the final page and click register to complete your free sign up.
You'll receive emails from the survey companies asking you to confirm your registration – make sure you follow the links to confirm, and you're now ready to take your first paid survey!
You will now be receiving regular survey invites straight to your e-mail inbox. Take part in as many surveys as you choose to, and get rewarded for each one!
How many surveys will I be asked to complete?
This depends on the demand that the Survey Companies have for people like you (age and gender in particular) at any particular time so it's difficult to be specific. Having said this, in our experience, on average you will receive around 5 invites per month from each Survey Company.
Of course, by joining multiple panels you have the opportunity to take more surveys and pick and choose the ones that reward you best.
Do I have to pay anything?
No. We will never charge you for using SurveyCompare, and neither will the survey companies we introduce to you. The market research companies want to reward you for taking surveys, not charge you for becoming a member!
Any website that asks for money in return for surveys should be treated with extreme caution. We are able to offer this service for free as we receive support from the survey companies we recommend, as well as donations.
Yes, this is all online, and all the surveys you will be asked to complete will be online from your computer.
How much you earn will depend on how many companies you choose to sign up to and how much time you want to spend taking surveys. If you want to maximise your earnings, we advise that you sign up to as many survey panels as you can.
Survey companies will normally pay you up to
$10 per survey
, (depending on things like survey length) and sometimes up to $50 for specialist surveys. Some survey companies will also reward you with gift vouchers, points redeemable for cash and entries into competitions. You can view detailed information about each survey company on our survey comparison page.
We always tell people that doing paid surveys will make you "pocket money", not a full-time salary. We would strongly advise you to stay clear of any websites that claim you can get rich by taking paid surveys.
Cash-paying Survey Companies normally pay you via cash checks and PayPal. PayPal is an online account that allows you to easily and safely receive money electronically, and is free to set up. Gift certificates and vouchers will usually be sent by email.
No, this is not a scam. We are a real company and we provide a valuable and well-established service that connects survey takers with legitimate Survey Companies. Neither us nor the survey companies will ever ask you for any money. You are in control at all times, and you are under no obligation.
How does SurveyCompare make money?
This website is supported by the market research companies that we recommend as well as donations. Together these enable us to provide an excellent, free, no-obligation service at no cost to you.
Yes, your details are safe. Your details will not be given to 3rd parties without your consent. Your details will only be held by us and any Survey Company that you choose to sign up with. You are free to unsubscribe from survey invites from any of these companies at any time. All Survey Companies we work with are large, highly reputable market research organisations.
No. There are no contracts that tie you in. You are under no obligation with any of the Survey Companies that we introduce you to and you can stop participating at any time. You can easily unsubscribe from survey invites by clicking the 'unsubscribe' link which you will find at the bottom of the email invites you receive.
If you are 16 or above, you can join any of the paid survey panels on offer. However some companies have a minimum age as low as 13 or 14 – you can find out which ones when you are choosing the survey companies.
What if I have other questions?
We are more than happy to answer any other questions you may have, or hear your feedback or suggestions about our website. Just send us an email to info@surveycompare.net and we'll be happy to help!
About Us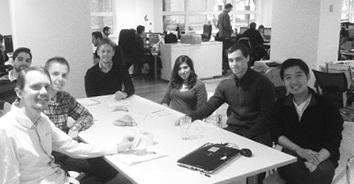 Our Team
Welcome to SurveyCompare: we find the most trusted, fairest, paid survey companies out there and bring them together in one free service. Our SurveyCompare team specialise in connecting high quality panellists (that's you) with market research companies. We have been doing this very successfully for almost three years and are proud to be known for the reliability of you - our panellists - and the high standard of survey companies we work with.
Our secret is simply: our panellists want to complete surveys. We don't over-promise, we just tell it straight so our community know exactly what to expect, and we give them no one but the best companies to take surveys from.
As well as our environmental responsibility – very little is wasted: we recycle all paper and plastics, and refurbish all computer hardware for reuse – we take the initiative with social responsibility wherever we can.
In the three years we've been working together, the SurveyCompare team has raised money on almost every one of our many runs, bike rides, triathlons, sky-dives and other athletic adventures. Recent charities we've raised funds for include Honour Village Cambodia, Samaritans, and Lifelites.
Yes, you can earn extra money with paid surveys, but don't be taken in by any website that promises an unrealistic pay-out.
Think of paid surveys as a convenient way to earn spending money. There are survey scammers out there, but SurveyCompare work only with trusted market research companies.
You will never have to pay any of our selected partners: you're the one who's earning here, not them!
We treat your data with confidentiality
We follow the rules of the Data Protection Act
We only send you relevant notifications
You can opt out of this free service at any time
Start Earning Today -
Sign up in 60 seconds!